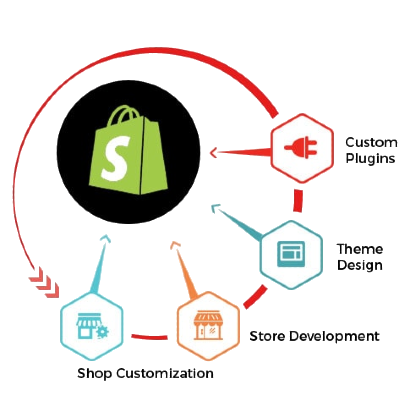 // CMS
Why The Hell Would
I Use Shopify
Our expert team in the field of CMS technology ,that have successfully completed a number of CMS projects for our clients on schedule. We always believe of client satisfaction and then implementing the process. Because of Shopify is trusted by millions of merchants to operate their businesses. Use powerful APIs to bring your ideas to life on a platform that improves commerce for everybody.
Our team uses the themes, applications, and tools given by the ecommerce builder, developers may quickly adapt the ecommerce website to meet the specific demands of a business.
Where Shopify Can Be Used
Shopify is a fully-hosted, cloud-based E-commerce platform suitable for all sizes of businesses. It provides users an online solution, which allows them to quickly build their own websites to sell products without coding. It might take time for small business owners to hire graphic designers or to get used to designing software, but this one-of-a-kind online selling platform has you covered.
// latest case studies
Introduce Our Projects
We've exceled our experience in a wide range of industries to bring valuable insights and provide our customers.
// TECHNOLOGY INDEX
Key features of Shopify for
eCommerce websites